Reliegos to Leon – 24.3kms
I'm not sure what it was, but today felt like an exciting day for everyone as we would be arriving at Leon. Maybe it was the knowledge of soon seeing the end of the Meseta and a return to the mountains or recognising Leon as the home stretch.
With this in mind, I started off early with the intention of having breakfast in Mansilla de las Mulas and to be in Leon very early afternoon.
I clearly have space issues as I much prefer walking in the wide open road in the dark than on the Camino path, but it is a little more disconcerting when there was no other choice.
I was looking for the arrows at a point where the Camino path simply ended and the arrows were pointing straight onto the road to a bridge. Are they serious?
I had just stepped onto the bridge with no shoulder when of course a car comes towards me one way and a bus the other and me nowhere to go!
I'm standing still like a rabbit in headlights, thinking this is not going to end well, but fortunately the car paused, let the bus go past and then he drove on the other side of the road.
I waved my thanks and moved a little quicker to get off the damn bridge and the close call may have sped up my need to pee!
I found a cafe that was open early to stop for breakfast (after dashing to the toilet).
After ordering cafe con leche, I was looking at all the pastries and then asked the man (who had been quite gruff at this point), what would he choose.
You should have seen his reaction. I wish it was something I could have filmed because he just lit up and I could've sworn he blushed!
He looked so genuinely touched I'd asked, he looked like a little boy when he pointed at himself, questioning. I could only smile and nod, so he pointed to the chocolate croissant. Texas was in the cafe and he said he could see the reaction from across the room.
Oh, it was such a good choice.
As I was leaving, he called out Buen Camino to me with a big smile on his face. Made my day.
I was lost in thought as I was walking down the street, so I think I jumped a little when out from a side street just in front of me, a Walking Dead herd of pilgrims came out. I hadn't seen a cluster of pilgrims that large on the entire Camino.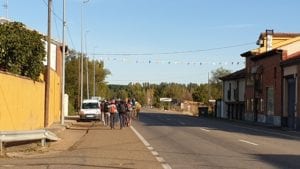 From here, it was a short walk to Puente Villarente with a beautiful long bridge and river with water so clear I could see all the way to the bottom.
After this, I just put my head down and walked to get through the day. There is a certain level of comfort that comes with rhythmic walking, just ruined by some hills.
But oh how exciting to come over a hill and see Leon.
I'd had to do a last minute change of accommodation because the place I originally had was in a no man's wasteland. Fortunately, I found a simple place right in the heart of all the activity.
Poor Tom had to go to hospital to get his knee checked out, but was given the all clear other than taking some anti inflammatories and rest.
Once we had him settled, BC and I headed out to check out an amazing medieval market in the old town I'd seen.
Of course, siesta ruined this plan, so we watched the world go by in a cafe with wine.  Tough life.
By 5:30pm, the market began to open up and we could start wandering through. It just seemed to go on forever through laneway after laneway.
Then I was in foodie heaven.
We had churros straight out of a boiling drum of oil, a cup of Sangria that was nearly as big as our heads and I was salivating over an olive stall.
There was a church in this area and BC wanted to go in and take a look. As we were walking up, a nun came out. BC turned to me with eyes wide, excited to see a nun again. (She'd never seen an actual nun before up until a few days ago, so it is a highlight for her.)
As the nun came near us, I was chuckling at BC's excitement when the nun came up to me and smiled, held onto my arm and said a blessing. Needless to say, I wasn't BC's favourite person at that point. I heard mutterings of "First you go to Burger King and now a nun touches you!" 😂
Tom gave up waiting for us to return, so he messaged to say he would be in the fiesta in San Francisco Park.
More food!
There were all these food trucks lined up, so I was hoping to sample a few things, starting with I think the best Empanada I've ever tasted.
We continued to wander around and I found a gin stall, so of course needed one of these.
Then I found the ultimate heaven – vegetables! There was a food truck where you could pick the things you wanted and it was all vegetarian. THIS was the best meal on the Camino.
I was so happy to finally experience a fiesta in Spain. I may be absolutely stuffed and I doubt will sleep for a while due to the music beating through the windows, but it was a really great day.
Even better is that tomorrow is a rest day.