Bercianos to Reliegos – 20.5kms
After pushing my feet yesterday, I'd decided to do a short day today. Short in the Meseta means 20kms.
I was a little concerned even about this distance considering how bad my feet were, but I cruised the 20kms as if I had just started and not been abusing my feet for three weeks.
Sadly, I didn't sleep well, which is a shame as the beds were super comfortable. It was a combination of people getting up and going to the toilet (my bed was near the toilet), being a little anxious about finding accommodation in Leon as there hadn't been a lot of options when I had been looking and my bloody silk liner.
Those things are not designed for people who move in bed. I keep tossing and turning and I wind up tighter than an Egyptian mummy! I have begun to hate the thing. Eventually I got out of it, lay on top of it, pulled my sarong over the top of me and then pulled the blanket over this. Bed bugs be damned!
BC was leaving early because she was doing a crazy 32km day. I had wanted to get away early so I could enjoy more rest time and still arrive at a reasonable time. We came unstuck when we couldn't work out how to get out as everything was locked. We finally worked out the single key on the bench unlocked the gate.
As we stepped outside and the freezing air hit, BC realised her gloves were inside. She turned and went back, but the gate had locked behind us!
I messaged Francoise to see if she could come down, but I was getting so cold, I needed to get going. I knew BC would catch up.
I really do love walking in the dark without the headlamp. The stars are so vibrant and there is a wonderful quiet that envelopes you, especially when you walk in the middle of the road instead of the gravel path.
I was hitting a quick pace to try and get warm and came along another pilgrim, but picked up my pace even further to get ahead of them because even the sound of their boots hitting the gravel was too much for me.
In the quiet, my thoughts kept bouncing around in my head. I was pondering what I was expecting to get out of the Camino, what if I finished at the end and didn't have this profound epiphany, what if I finished and wasn't overcome with any overwhelming feeling other than this was a fabulous holiday that happened to involve a crapload of walking, what if, what if, what if?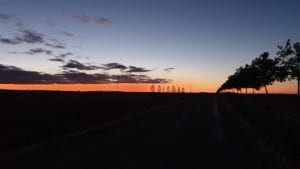 I began to realise all of these thoughts were coming from other people's comments, experiences or expectations. I came to do the Camino in memory of Bree.
My journey started before I set a single foot on French soil, working through the emotional uncertainty I'd experience while on the Camino, to now having daily conversations with Bree while I walk and feeling her closer to me than she has in a long time.
However I get to Santiago and whatever I feel, will be what it is and I won't regret a single thing because this journey has introduced Bree to a whole new world of people.
I felt a lightness in my step and even laughed out loud when I saw some graffiti on a wall. Clearly someone else is looking for the Meseta to end!
El Burgo Ranero was the first stop for the day and BC had caught up as I knew she would. There was a fabulous selection of food on offer, including some weird rectangle thing. BC ordered it without a question, but I had to do the poor Spanish query of "cin carne?" meaning no meat?
The lady instantly shook her head and started rattling off cinnamon, lemon, orange, sugar but I was already nodding for one. It tasted amazing! Kind of like French toast, but shaped like a chocolate croissant.
Francoise joined us and she and I stayed chatting at the table long after BC had to set off and this continued all the way to where I was staying.
It was a delightful, casual stroll that the kms just disappeared and my feet didn't grumble at me at all.
We stopped at a lovely grove of trees and I felt so at peace, I left a heart for Bree. When I first started walking, it took a lot to release the words to write on the hearts. Now, the words simply flow and there isn't the pain of letting it out.
5kms after this stop and 1km before Reliegos, we came across another shaded area and stopped again, sharing an apple, cheese and sweet pastry. It was heavenly.
My supposed booking in Reliegos was again non-existent, but fortunately they had a bed. I dumped my things and had lunch with Franciose as she was headed to the next village.
Before she left me though, she wanted to walk down to Bar Elvis where I had been told to visit by Gentle Tom so that if I disappeared, she knew where to point people.
We stood outside the closed building, looking very dubious about why it has such big reviews. I said I would find reinforcements.
I was staying at Albergue Vive tu Camino, which I found out meant 'Live Your Camino' and I thought how perfect for today.
They make a fabulous Sangria and I enjoyed two out in the garden before someone came along and made enough noise for three people and started smoking so I vacated quickly.
It was one of those blessings in disguise though as I met a lovely lady from Nova Scotia (who had also vacated when noisy woman arrived) and we got to chatting, which then had me joining her and a mother and daughter from the US for dinner. I convinced them to come to Bar Elvis with me. I had my reinforcements.
As we got ready for dinner, I couldn't find my pullover and realised I had left it sitting on the chair of the bar at lunch! We walked past it, but it was closed, so I thought, well that's that then, I'll have to buy something in Leon.
After dinner, we were leaving the restaurant and the woman who had been serving at lunch was sitting there. The daughter from the US could speak Spanish and asked her about my jacket and she had it in her car which was parked right outside! I couldn't believe my luck.
So, it was time to brave Bar Elvis. We walked in and there was no one inside, but I thought, I'll get a drink and go. I asked for a G&T, but was told no, so I asked what he had. He had Lemon or Coca Cola.
I thought, well this is a bit of a bust if all I can get is soft drink, (bloody people and their Camino recommendations!), so I ordered a Lemon Squash and he got a glass with ice and the can of lemon, then handed me the gin bottle!!! 😮
Well that set everyone off and drinks started to be ordered.
There may have been some line dancing involved. I sent a message with pictures to BC to show her what my evening was involving. Turns out I sent it to the luggage transfer people instead! 🤣
I can't believe I became the responsible one, leaving to go pack my bag and avoid being locked out for the evening!
Bree would've loved it.