A sleep in! I crashed asleep as soon as I hit my pillow last night and when I woke up, my watch said 6:30am. That is the latest I have slept in for well over two weeks!
Today, I was leaving Nepal. It felt quite surreal after four weeks of being here. I still had a full day though, so got myself moving to re-pack my bags ready for my flight back to Singapore and then on to Melbourne a day later. I needed breakfast and to check out as well before the car picking me up arrived at 10am.
While I was down at breakfast and 20mins before my car was due to arrive, I could hear the beginning sounds of what I had come to be familiar with – a protest and it was getting louder as it got closer. I knew this would cause a problem for my car making it to me.
Sure enough, I received a message stating my driver would be late. While I waited, I chatted with the manager of the hotel. He told me the hotel had only been open 26 days, so he hoped I would write a review to help promote it. It was nice to think there was a high likelihood no one else had slept on the bed I had slept on.
45mins after schedule, my car finally made it through, but we still then had to sit in the same traffic that had built up due to the protest. It was taking so long that I thought I needed to decide what I wanted to see more, Namobuddha Monastery or Bhaktapur, as I didn't think I would be able to do both in the time available. Namobuddha won over.
The traffic had been so bad, I felt l had been in the car for six hours and was exhausted. The landscape gradually changed though, leaving the built up centres behind, to start opening up to mountains, fields and small villages.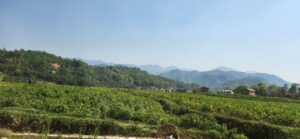 So much of the landscape has been carved out to create homes and fields for planting. Entire mountainsides were no longer covered in trees, which was sad to see and also, a little perplexing. Landslides are incredibly common in Nepal, especially around Kathmandu and yet, so much land is cleared of trees, the very thing that helps hold the soil together.
The road was painfully bumpy again and the car I was in was not built for the constant carved up, uneven roads, so it was slow going. Over two hours later, we finally arrived.
The car couldn't continue past the village, so I had to walk to the Monastery. Google Maps was saying 500mtrs and I was worried I was going to be climbing straight up again, but the road up was a gentle incline and the Monastery was not perched on the very high point of the mountain like I was expecting.
When I first arrived and looked at the buildings, I wondered if this nearly four hour return trip would be worth it. It clearly wasn't an old Monastery (I later found out ot was built about 25 years ago) and much of the building complex looked like standard office buildings in Kathmandu.
Namobuddha Monastery is a Tibetan monastery about 40kms outside of Kathmandu. According to legend, a prince was on the mountain in Namobuddha and came across a dying tigress with five cubs still suckling from her. He sacrificed his life by chopping his limbs off to feed the tigress to ensure she survived and turned the mountain into a holy site.
The best place to start was the main Monastery, so I climbed the steps up to this imposing building. Everywhere you turned, your eye was drawn to some intricate detail or out to the expanse of the valley below.
I climbed up more stairs and began following signs to the Shrine Hall. When I walked into this vast room, I stopped dead in my tracks. It was one of the most visually stunning rooms I'd ever seen. Sadly, you were not able to take photos inside, so no description is ever going to do it justice.
The lighting was subdued, which accentuated the stunning chandeliers hanging down each row. In between the chandeliers hung giant dhvaja banners made up of layered, smaller patterned banners, that when seen from a distance, created an overall image.
Along the back wall were (I think), six giant Buddha statues with a variety of hand poses, surrounded by mosaic tiles that made the area sparkle.
There were a number of shrines for people to pray at and make an offering. One shrine was evidently for a Buddha with a sweet tooth. It had these detailed creations out of sugar like from a gingerbread house, but incredibly intricate.
And throughout the entire room, were rows and rows of cushioned pews, with bells and other items on them for the monks.
When I first went inside, there were just a few monks in the room. But the longer I was in there, more and more monks started flooding in and I felt like I was intruding on something and needed to leave. I could also hear the slow, steady sound of a large drum being hit.
I made my way outside the room and watched in wonder as the drum continued to beat, calling the monks. As time went on, the person hitting the drum started to hit it louder and faster, until finally he suddenly stopped and the room was filled with monks of all ages and levels of training.
I stood entranced as a deep, low hum started rippling across the room. The monks then began to chant, to the point it was reverberating through the room and travelled out to the foyer where I was standing and I felt it hum through my body.
A drum beat soon started again and a roar rippled across the room, with well over a hundred monks chanting louder and louder while ringing bells. I'd never heard anything like it. I was completely taken in by it all and lost all track of time.
I took a photo outside of the room to give a tiny indication of what that room beheld.
I wandered around a little more of the main Monastery, but realised it was already 2pm and if the trip took two hours to get back to Kathmandu, I needed to be on my way.
Had the trip been worth it? Absolutely!
The timing also meant the visit to Bhaktapur was also off the table as rushing through the square would not give it the respect it deserves. Another reason to return!
Sometimes though, you are afforded an alternative opportunity that potentially provides you more than what you would have had otherwise.
As we were making our return to Kathmandu, we passed some temples that were clearly very old. I asked my driver what they were and had him to stop. After a bit of detour, he found an entrance to allow me to wander through the square.
I was at Indreshwor Mahadev Temple in Paunati, one of Nepal's oldest and largest surviving pagoda style wooden temple, dating back to the 13th Century, with not a single other person in sight.
There was no sound other than an occasional pigeon flying into the eaves and I could feel the history of the place seeping up from the stones, worn down by thousands of feet over a thousand years.
I would have completely missed this place if my original schedule had worked out, and I think the experience here had a far greater impact on me than Bhaktapur would have had.
We finally arrived back in Thamel just before five, leaving me two hours to do some gift shopping, and hopefully catching Dan one last time before I had to head to the airport.
Incredibly, I messaged Dan, letting him know that my gift shopping was sorted and I was near Baskin Robbins, and he messaged back telling me he was in Baskin Robbins!
While I had been searching for gifts, I came across Delima Garden Cafe, which had a lovely looking garden, so we wandered there for me to grab a bite to eat as I hadn't eaten since breakfast and for Dan to have a drink.
While the garden area was lovely, our stay wasn't so pleasant, with a waiter who kept hovering around and interrupting us all the time. He also kept pouring Dan's beer straight down and fast, causing huge amounts of froth and for it to keep foaming over the glass.
He then tried to charge us a service fee and tax on top of the cost of the meal and drinks, despite the menu stating costs were inclusive of this. I told Dan to go to Northfield, which was actually on his list,  before giving him a final hug goodbye.
And then, it was time to go. I'd had an incredible month, but my time in Nepal was done and I felt ready to go home.
Knowing Kathmandu traffic by now, I'd allowed for double the time to get to the airport. It became quite agitating when it looked like that might still not be enough.
Traffic lights are almost non-existent in Nepal and during heavy traffic, the police become the traffic controllers. Except, they were controlling the traffic on the main road, but not stopping the traffic to allow us space to get across from a side street.
We sat there for 20mins, with the police still not halting the traffic. More and more motorbikes were cramming into any spare space around us and becoming more impatient to be allowed to go across, just as I was. I was nearly at the point of getting out of the car to beg the policeman to stop the traffic because I had a plane to catch.
After what felt like an eternity, the policeman finally halted the traffic to allow people to come out from the side street. I nearly yelled at my driver to move as he had turned the car off while waiting and we nearly missed getting across before the police stopped the side street again.
Navigating the airport was the next challenge. There were hundreds of people outside the building as that is where everyone says goodbye to travelling loved ones.
I finally found my allocated entry point into the building and within five minutes of making it inside, the power went out and we we were plunged into darkness. It felt like the universe was conspiring to keep me in Nepal.
Five minutes later, the power came back on and I felt utter joy bypassing the check in queue to line up at the Business counter. This was quickly squashed going through immigration. They had just two people managing foreign departures and they were painfully slow.
I had to let my tiredness and irritation go and recognise this is just Nepal, and Nepal has its own time. Sure enough, I made it through, straight into the business lounge where I could take a breath and unwind. I was on my way home.
Dan had visited Pashupatinath Temple today and received a little brochure card following his visit. When I read the last sentence of the blessing, I thought this beautifully captured my time in Nepal and what I wanted to take away….
तपाईको पाइला सधैं मानव कल्याणको लागि अगाडि बढिरहोस्।
May your footsteps always be forward towards human wellbeing.
Thank you Nepal for being everything I imagined and more. I fulfilled a 20 year old promise to myself and had the most incredible experiences.
Thank you to the amazing people I met who I connected with on a deeper level.
Thank you to my son Riley for being who you are and supporting me on this trip.
And thank you to my beautiful daughter Bree, whose spirit in life has me stepping out on so many amazing adventures to honour her memory. Forever loved, always missed.
Namaste Nepal x