Arzùa to Amenal – 23kms
We both had a rubbish sleep which wasn't helped by the 6:30am alarm, but despite this, we still managed to walk out the door a little after 7am.
I thought yesterday was pea soup. It was nothing compared to today. The thickness of the fog was so dense, I couldn't see more than a metre in front of me and the light from my headlamp simply kept reflecting back, so I could barely see anything.
My leg length means short steps, but this morning with the fog, I felt like I was taking baby steps. I felt completely disoriented and sounds were bouncing around in the darkness and I was getting more and more creeped out.
This wasn't being helped by hearing owls somewhere in the darkness and shadows of what I was telling myself was pilgrims walking ahead.
Riley said the one positive for him was that with the darkness, he wouldn't be having to wait forever for me to take my millions of photos. He may have inherited my exaggeration gene.
Anyway, with the light reflecting back at me, I had to keep my head down to just focus on the ground in front. I may have been a little on edge already, so at a moment when I did look up and saw a huge outline of a man down the path in front of me, I may have squealed and jumped a little.
Once Riley stopped laughing, he said I had introduced a new reaction to the fight or flight mentality – the tyrannosaurus pose (little arms flailing outwards). This image kept him amused for most of the morning.
By this point, it was 8:30am and still dark enough to need the headlamp. I don't know whether we left just that little bit later yesterday or it was just the fog was thicker, but as I was walking along, there seemed to be a more sinister feeling in the air. Every horror movie ever made would have had the perfect backdrop here. Maybe I am just overly dramatic.
Some light finally filtered through and I was able to test out my night mode on my phone, but these photos just creeped me out further.
I thought we had walked so much further, but when we stopped for breakfast at Casa Calzada, I discovered we'd only gone 6kms. Still, the cafe con leche was great and for something different, I had an Empanada with Tabasco sauce. The lady heated it up for me and it filled my stomach perfectly.
The problem with stopping is you get all warmed up, then have to go back outside again. It felt so chilly in the fog, which was still thick, it just had more daylight coming through.
In the stillness and utter quiet as I was walking, it was very difficult for the thoughts not to drift to tomorrow and what it means.
In the beginning and even well over halfway, I couldn't comprehend why people would want to do it again. I get it now. I truly don't want this journey to end.
This has been a journey that brought Bree to life again, sharing her with people, introducing her to all new people. It was so emotional doing this in the beginning, now I don't want to stop, but how do you keep a child who has died alive so "presently" when everyone else is uncomfortable about it and thinks you should "move on."
Needless to say, the emotions were all over the place, teary one minute, in awe the next, sharing a laugh with Riley and back again.
I wished for Irish and BC to be with me to share the end as they had the beginning. Oh the laughs I shared with these two.
I felt thankful for Irish turning up at the moment she did on that hill that caused me to keep going, which feels a lifetime ago, but in reality was only 36 days ago.
I felt thankful for being on the path at the moment I was, to lead BC to recognise Bree's photo from the Camigas Facebook page and becoming my dear Camino friend.
And I truly felt thankful for all the people who crossed my path and became a part of my Camino family, who made me laugh, who gave me something special to cherish – gentle Tom who I said goodbye to in Leon and Francoise, whose gentle spirit and sense of humour bonded me to her instantly. Sara and Evan who simply made me feel at home and Mum Andee and daughter Tiara who I felt like I'd known always.
And of course "Sparky," my dear friend Jean who I love dearly and still want to be when I grow up.
So yes, the emotions were high.
Fortunately, the scenery and sights were still amazing and I was trying to absorb every single bit.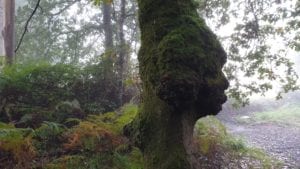 Taking the beer garden concept to a whole new level…
5kms before O Pedrouzo, there was a cafe I was a little dubious about stopping at given the image of the cow as their main logo. Even Riley didn't feel hopeful, but we'd been walking for nearly two hours and I needed to stop. I looked at the menu and jumped in delight – a vegetarian burrito.
I think it was the best meal on the Camino. I had broccoli! Ohhh it tasted soooo good. I also had a glass of homemade sangria, so it was a very happy lunch stop. I was glad we only had 8kms to go.
Rather than stay at O Pedrouzo where the majority of pilgrims would be staying tonight, we had decided to walk an extra 3kms to Amenal.
I'm so glad we did because the scenery was just as gorgeous and we likely would have been walking in the dark and missed much of it.
With not much on offer in this area, I did laundry and while I was waiting for it to dry, I enjoyed a little foot massage.
Riley said I looked like a chicken about to go in the oven. Maybe, but a very happy chicken.
It is so hard to comprehend that this is my last official night on the Camino. There will be many tears tomorrow, but what an incredible journey it has been.