I had been told by one of the managers that a rhinoceros would often come to the river in front of my room around 6:30am, so once again my alarm was set far too early, only to find out he had already been and gone.
I went back to the cool comfort of my room to wake up properly before walking down to the central complex for breakfast.
I had a planned trip to make my way over to Sapana Village Lodge, an elephant sanctuary that rescues elephants to spend a few hours with them.
The only issue was I was in such a remote area, I couldn't get a taxi at the time I wanted. Again, the accommodation came to the rescue and while I paid a small fortune by Nepali standards, they dropped everything and transported me the hour drive to make it in time for the elephant bathing.
Sanjay was my driver who had also provided me the lovely welcome the day before and I learnt so much in that hour with him.
Chitwan produces three different crops over the course of the year. Currently, corn is the crop growing everywhere. During the monsoon months, the crops will become rice because this is heavily dependent on lots of water and Chitwan has no access to water outside of this time. After the rice is harvested, during the cooler months, mustard crops are planted.
Sanjay advised the crops are changing as farmers find crops that are easier and more profitable such as banana plantations and dragon fruit.
We talked about sustainability and the protection of the area of Chitwan. One of the main reasons I booked Barahi Jungle Lodge was because of their sustainability work, avoiding the use of plastic as much as possible and educating the locals about protecting the environment and the wildlife.
I learnt that 95% of staff at the hotel are locals to provide an alternative income to practices that are harmful to the environment. Outside of this, they purchase the majority of food and services from the local community.
We talked about the work being done to protect the Bengal tigers, which has also resulted in protecting the one-horned rhinoceros. Nearly 10 years ago, the Nepalese government made a commitment to double the tiger population within 10 years. This time is nearly up and through the efforts put in to fulfilling this commitment, the tiger population has tripled and the Nepalese government won a conservation award last year for their efforts. Our government could learn a lot from a country with such little resources in protecting their endangered species. The official number of tigers in the Chitwan National Park stands at just 128 tigers.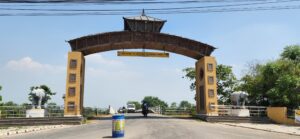 We also talked about children and I told him I had a 22 year old son and a daughter who had passed away and was the reason I was here. Sanjay said we are here on this earth for such a little time and we never know what might happen, so he thought it was a wonderful thing to live my life to the fullest. 
I was almost sorry our trip ended….almost.
I had made it just in time to go down to the river and be in the water while an elephant came in for a wash.
After spending half an hour swimming in the river next to this majestic animal, I moved on to the shelter where the rescued elephants spend time in the shade to feed one of them and learn about the lodge's efforts in protecting them.
I had a basket filled with a variety of fruits and vegetables and I couldn't keep up with the elephant's speed in being able to hoover down the food with her trunk.
I learned that one of the elephants was rescued as the lodge had found out she had cancer in her legs, but was still being used for safari walks for tourists. It doesn't bear thinking about the pain she must have been in purely for people's entertainment. She is also pregnant and has to be kept separated from all the other elephants as she is quite aggressive. I don't blame her.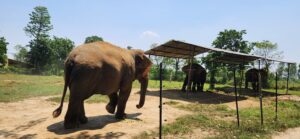 I had a wonderful few hours there learning about all of the work. As I wandered around and came back to the river frequented by elephants and rhinos, I thought of little Lachlan and for some reason thought he would love it here.
I left his photo facing out to the river, but on the other side of the tree after I hung his photo, I saw a playground. As I said goodbye to him feeling a little teary, I hoped this place would bring a smile to him.
I had lunch at the lodge before they organised a transfer to take me back to Barahi Jungle Lodge in time for a sunset boat cruise and a lovely mocktail beforehand.
I had an hour before it commenced, so was able to call home and wish my dear friend Sheryl well as she is about to embark on an amazing journey of her own and will be gone before I get back. The hour passed quickly and suddenly I was rushing down to a canoe and in true Nepal style, life jackets were optional.
It was a beautiful, gentle cruise down the Rapti River (which eventually becomes the Ganges River in Nepal), spotting bird and animal life, in the hope of seeing a rhino or tiger come down to the river to cool off.
We came to shore and had the delight of tents set up for us with chairs and tables to watch the sunset in the most civilised manner ever. Staff continuously came up offering a variety of food including grilled pineapple, vegetable momos, curried potatoes, grilled fish bites and so much more. We were all full, but still they came and encouraged us to try "just this one more dish."
Some street dogs clearly knew the score, as they came to our tents, looking pathetic and all of us fed them.
It was the most relaxed I had felt the entire trip and didn't want it to end, but we had to return to the lodge before nightfall, due to, you know, the wild animals that cross the river to our side! 😳
The temperature was still hovering at 30 degrees, so I wanted to go for a swim when we returned. I needed help though, to sort out my flight back to Kathmandu the following day. When I tried to book online, my bank kept wanting to send me a txt message to confirm it was me, which I couldn't receive on account of being in Nepal and there was no way in hell I was catching another bus!
I went to the concierge to see if they could help. They rang the assistant manager for Buddha Air at Bharatpur Airport, gave him my details, hung up and told me they would hold a ticket for me.
I was dumbfounded! I stared at him and asked, "Is that it? I just turn up tomorrow and pay for the ticket then?" He just shrugged in a very nonchalant manner, like it was nothing. There is no way you could turn up to an airport in Australia and pay for a ticket that had been "held" for you!
I went straight to the pool after this and remained in there until the Tharu cultural show commenced and had to dash out of the water and watched the show wrapped in towels.
Afterwards, I stayed outside soaking up the beautiful evening, painfully aware it was my last night there and that very soon I would be home, back in the grind of normal life.
Just when I thought I was done for the evening, my naturalist guide told me he had a surprise for me and asked me to accompany him. I had no idea what was happening, but he took me into a garden completely filled with lanterns and escorted me to a table, explaining they were providing me a complimentary dinner.
Again, the bite sized morsels of food kept coming and I reached a point where I simply could not eat another bite, even when they tried to convince me to sample the next dish which was a well known dish in Chitwan.
They didn't give up though and finally I caved when they said I absolutely had to try a sugar dumpling. Thankfully it was small, but they were right. It was a taste sensation in my mouth.
It would have been lovely to remain in the garden, but I had to go to bed. The regularity of early mornings and late nights were doing me in and I could feel the bone deep tiredness setting in. Plus, I needed to be up early again in the morning for a jungle safari and hopefully the sighting of wild rhinos and the elusive tiger.