Of which, I am not one. I am not a morning person by any stretch of the imagination, so I must have had rocks in my head to sign up for a sunrise hike.
Here was my thinking, (it seemed logical at the time). I would be needing to get used to getting up early on the Camino, especially with my slow status and ensuring I reach a bed at the end of each day, so why not try and get into the habit early? Plus, the hike location was close by (meaning I didn't have to get up even earlier) and our illustrious Ladybirds leader was selling it well. It will be great she said. We'll do it in our pyjamas she said. It will be magical.
Needless to say, this gorgeous woman was NOT my favourite person as I dragged my sorry carcass out of bed at 5:45am to meet everyone at Mt Lofty by 6:15am. She was decidedly even lower on my favourites list when I turn up to see her looking perfectly groomed, bright and sparkly, hair glowing and full of boundless energy!
My grumpiness was soon set aside by the sight of all of us in pyjamas and hiking boots, including a pair of fluffy bunny ears that I was a little jealous of because it was cold. Really cold. The morning though, was simply stunning.
The air was crisp, clear and serene. As we waited for the sun to come up, we watched the moon going down and the colours change from muted blues and purples to blazing yellows and oranges.
This, I could understand the appeal of. Everything had a hushed feel about it and you felt like you were being bathed in the first light of creation. Okay, Andrea, I will give it to you, it was magical.
With the sun now glowing on us, it was time to complete the circuit walk of Mt. Lofty. The Mt. part of the name was a bit grandiose. The elevation is approximately 130metres, so more of an exaggerated hill than a mountain, but fabulous views all the same.
Down at the river, the sun hadn't yet reached the water, so the fog lifting off gave it an ethereal glow. This was worth getting up for.
Our adventure laden hike filled with sunrise vistas, riverside reflections and the hunt and discovery of an infamous rusted abandoned car was followed by a delicious group breakfast.
By the time I arrived back home, I felt invincible and like I could take on the world. If this is how morning people felt, I could jump on the bandwagon. Early mornings here I come.
This is how I felt an hour later….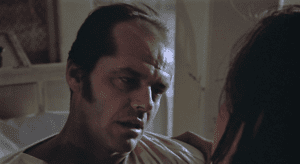 Jack Nicholson in 'One Flew over the Cuckoo's Nest' after he was lobotomised. I couldn't actually find a picture of him drooling because I am sure that would have been a closer characterisation of how I was. For. The. Rest. Of. The. Day!
Needless to say, I have not been on another early morning hike. I shall leave the early mornings to the birds and those crazy morning people and just have to hope that there will be a bed waiting for me when I finally arrive into each town of the Camino.
Nice try though Andrea. 🙂
x