It's time to go. All the talking about it, shopping for it and kinda training for it is done and now it comes to the doing.
To make the journey a little easier, I treated myself to Business Class. (Thanks to my lovely Ladybird Lynda for planting that seed last year!)
This has always been a bucket list item, so I wanted the best option and researched this (actually, probably more than I researched the Camino) extensively. All the research and reviews said Emirates was the way to go, so at 2am, my chauffeur came to take me to the airport.
After a mini blubber in the car due to the enormity of what I was doing, thinking about Bree and about leaving my gorgeous son behind, I settled and enjoyed the stillness that comes with driving at 2am.
I had grand visions of sailing through security with my business priority. Apparently this only occurs in domestic. After 45mins of muttering that there didn't seem to be any point to business class, I finally made it through and discovered the point.
As all the plebs sat at the gate, I enjoyed a buffet breakfast of everything imagineable. Even was able to print off a few things I'd forgotten. We were also given a later boarding time and still passed the queue by.
On board though was where it really kicked off. All pretense of being this well-travelled woman who always flys business class was lost the moment I saw my little cubicle with wood panelling side table. I think I may have squeaked!
Given I hadn't slept since Sunday morning, as soon as the seatbelt sign went off after take-off, I put the seat down flat and was getting comfortable when a crew member came along and asked if I'd like a mattress. Ahhh, hell yes!
I was happy just to be lying flat, but the mattress took it to next level. I was asleep within minutes and slept for five hours.
The food was amazing of course, but it was the bar area that really separates you from cattle class.
How can I resist a cocktail?
After a shower and massage at Dubai, I re-boarded, only to discover I had left my glasses and watch in the shower. The crew said they would be found and returned while I tried not to let it get it to me.
This failed when I reached the stopover hotel and discovered I didn't have my power converter and couldn't charge anything. (Turns out it was tucked into a small backpack pocket.) Again, logically, I told myself this was fixable, but the panic still bubbled a little. It hadn't even been 24hrs and my mishaps were already happening.
The bubble went into full meltdown mode when I finally arrived at St Jean Pied de Port and got lost trying to find the Pilgrims office. I asked someone for directions and they sent me the wrong way and after walking for too long and not seeing a single person who looked remotely like they were hiking, I lost it.
How the hell was I going to walk 800kms across Spain if I can't even find the Pilgrim's office in the tiny village of St Jean?? Everyone kept telling me you can't get lost and I'm already lost and I haven't even started! And… the thoughts kept snowballing while I blubbered.
Pretty soon it started to rain and while most movies show this scene to make someone really feel like they were being dumped on, it was enough to bring back some rational thought.
I retraced my steps, put some data into my phone and got some quick directions (which turned out to be about 10mtrs up from where I originally asked for directions), made a mental note to never ask that hiker for directions again and lined up at the office.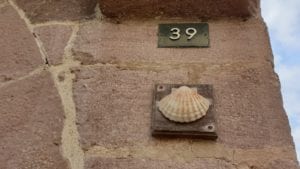 The woman very kindly calmed me down when I again started getting emotional, gave me some useful information, directions to get on the path (opposite way to what I thought!) and wished me Buen Camino.
Crisis over. I could finally just explore.
I found somewhere to eat a delicious Pilgrim's meal and was joined by two sisters and I was able to share some of the advice I'd learned from the Camigas. It was a simple night, but helped take away the last of the panic… for now at least.
Now it is time to just start walking.