A couple of weeks ago, I was talking to a dear friend of mine, completely freaking out. I think my exact words to her were "I'm less prepared for Nepal than I was for the Camino, and I wasn't prepared for the Camino!" What encouraging words did she provide me? None. She was too busy laughing at me!
After she stopped laughing, she asked me what I was worried about. She told me that I seem to do everything last minute, without a plan and somehow it always works out for me.
It turns out she was right. I was reading some of my blog from when I did the Great Ocean Walk two years ago, and my opening line is "After what feels like not enough planning, suddenly today, I took my first steps on the Great Ocean Walk."
I remember the looks of horror when people I met on the Camino, learned how limited my planning was for an 800km walk across Spain. I think I was stressing everyone else out by not having things sorted or packed for Nepal and I saw people shudder at discovering I don't have accommodation booked in Nepal.
My friend was right though. The time has come and in an hour, I am due to board a plane to Singapore en route to Kathmandu. This may be due to only four hours sleep, but I feel completely calm and all my worries have disappeared. I'm where I'm supposed to be.
For the last two weeks, I have had "signs" for Nepal popping up everywhere. First, it was that ad that started appearing for Belong where that creepy finger is climbing its way to Mt Everest. Then, I happened to catch half of David Attenborough's 'Frozen Planet' and it featured the Himalayas. Last weekend I was in the city to pick up some supplies. I had to pull out my phone to locate the store and began to think I also needed some lunch, so looked up to see what was around me. I discovered I was standing directly in front of a Nepalese restaurant, so how could I not go in? I can't remember what the below was called, but it had the most interesting flavours.
Lastly, I went out for dinner just a couple of nights ago and the waitress advised the chef was trialling a new dish from his home….. Nepal! I mean, what are the chances?
Needless to say, it was a last minute pack last night, which likely has things I don't need and not have things I do, but I figure as long as I have my passport, my phone and access to money, I'll be ok.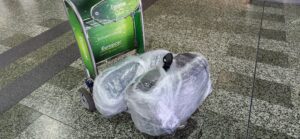 My last overseas trip was for the Camino and I treated myself to business class. Unfortunately, Covid is still impacting the cost of flights and when I have a 50th birthday party to return to and pay for, I made the difficult decision to have to return to cattle class and be one of the plebs again.
I am however, currently enjoying how the other half live following an invitation I received to access the Business Lounge prior to my departure. Here, it is quiet, with subdued lighting, full bar (if I was inclined to make myself a cocktail at 10:30am) and hot breakfasts including the most impressive automatic pancake maker!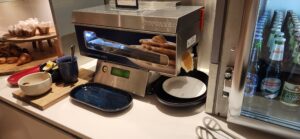 A big shout out to my friend Alice who is kindly sharing her home with my beloved Labrador Luna while I'm away and to Gus who came to my rescue without hesitation and delivered me safely to the airport when my original chauffeur Riley became too unwell. I am eternally grateful.
It's time to head off. I'm finally feeling the stir of excitement in my stomach. Travel is my happy place and it has been far too long.
Much love x
Scratch that. Just had the announcement of a delay to our boarding, and to remain in the lounge. Might make that cocktail after all! 😆