I cannot wait until the body clock adjusts to Nepal's clock, because waking up before 6am is not great when you're not a morning person. What was even more shocking was that I could see it was already bright outside. Doing a sunrise hike has just gone up a notch in difficulty if the sun comes up at 5:30am!
I managed to go back to sleep until 7:30am, when someone banged on a door, before then banging on my door. Thinking it was a bit harsh to start our orientation so early after we arrived so late last night, I got up and opened the door, with no one in sight.
It was like the hotel was providing an unwelcome alarm clock to make sure we didn't miss breakfast.
With this in mind, I entered the bathroom in trepidation, wondering what I would get when I turned the tap on. I'd been advised I may not have hot water and no matter how much I tried at home, I could not bring myself to turn the water cold. Each time I tried, I found myself turning the water up hotter than when I started.
Thankfully, I got warm water, from a showerhead that although it didn't manage to catch me very much, managed to spray water over the entire bathroom, but still, what did get me was warm and I was happy.
After breakfast, it was time to take my life in my hands and brave the streets of Thamel. My first priority was finding somewhere to buy a SIM card to ensure I had internet and local call capacity, but without said internet en route and no map, I was concerned it could be a little challenging.
What was more challenging was the confidence to walk on the road with cars and motorbikes hurtling towards you or behind you.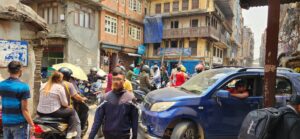 At one point, I was walking along the side of the road when a man stepped out onto the street right in front of me, causing me to have to step slightly to the right. Just at that moment, I felt the brush of someone on a motorcycle against my arm as they went past. I heard myself give a tiny squeak. One more step and I would have been directly in front of that motorbike.
The more I walked though and followed the locals, the more confidence I gained and was able to cross streets easier and with lots of assistance from locals, I found my way to an Ncell store for a new SIM card.
They set my phone up with the new SIM, however when it came time for paying, they didn't take credit card and I didn't have enough rupees to cover it. I was directed to the nearest ATM to draw out money and come back to pay.
Could I have done a runner? Absolutely not. To get that SIM card, I had to provide my passport details (yep, standard requirement for purchasing a SIM overseas), but then I also had to provide a passport photo AND they took photos of both thumbprints! I had visions of my thumbprints being recreated with a 3D printer and used for nefarious reasons, but I managed to just smile and nod while they took their photos.
Now that I had internet in case I got lost, I had all the confidence in the world to finally start exploring.
Kathmandu is an incredible melting pot of temples, basic modernisation, brand name products for trekking, incense, locals and tourists and I couldn't absorb it all fast enough
My exploring led me to Durbar Square, a UNESCO World Heritage site, located in the heart of Kathmandu, comprising temples, idols, the royal palace and open plazas. This ancient site with temples dating back to at least the 7th Century, was decimated in the 2015 earthquake.
I hired a guide, after a lot of cajoling on his part, but in the end was worth it for the information he shared.
The two temples below were destroyed in the earthquake, yet a temple beside them survived.
So much was destroyed, but is slowly being restored. The royal palace below was destroyed, but is close to being complete.
The below temple became known to the locals as the 'hippie temple' due to the hippies who descended on Kathmandu in the 70's and chose this particular temple to climb the steps in the afternoon and smoke hashish.
There was a Hindu festival on, so there were lots of marigold flowers everywhere and temples or idols everywhere you looked, honouring a different God.
It was all so fascinating, that I didn't realise the whole day had passed or that I'd walked nearly 14kms according to my watch. Finding my way back to the hotel was quite easy and made all the more entertaining by the increased crush of cars, trucks, motorbikes, pedestrians and tuk-tuks.
I'd not eaten all day, so was drawn in to a cafe by the lovely oasis of trees and respite from the chaos of the roads. I ordered a type of quesadilla that was a cross between a tortilla and naan bread, but it tasted divine.
I discovered our hotel had a roof top which is where my volunteering orientation would be in the morning, so I thought I should work out where it was. What perfect timing it was to discover.
I can't wait to see what tomorrow brings.